HOHN GROUP developed MBC(Marine Breakaway Coupling) also called Emergency Release Couplings (ERC) is designed to protect a floating or subsea GMPHOM 2009 hose string from an axial load or internal pressure surges above a certain fixed value. 
HOHN Marine Breakaway Coupling are often found in offshore marine crude oil terminals where there is the utilization of CALM catenary suspended hoses and floating hoses for Bulk Oil, Liquified Ammonia, Co2, LNG,LPG etc transfers.
HOHN Marine Breakaway Coupling is designed for a above 30 years life span time.
Marine Breakaway Coupling's Purpose: HOHN MBC are primarily fitted to mitigate the outcomes of a Mooring hawser failure, potential rupture of the loading hoses as a result of a tanker drifting which causes over-stress to the hose, tanker breakout which leads to excessive axial loading on the hose. Another purpose of an MBC is to mitigate surge pressure whose cause is possibly due to loading valves shutting against loading pressure in full flow which has a potential damage to the hose.
HOHN Designed couplings could also help reduce stress on hose reels and save both weight and time as well as being very safe.  This not only keeps operators safe but also minimises product losses and costly downtime.
Sizes: 2" DN50 to 24" DN600 or bigger size as customized options.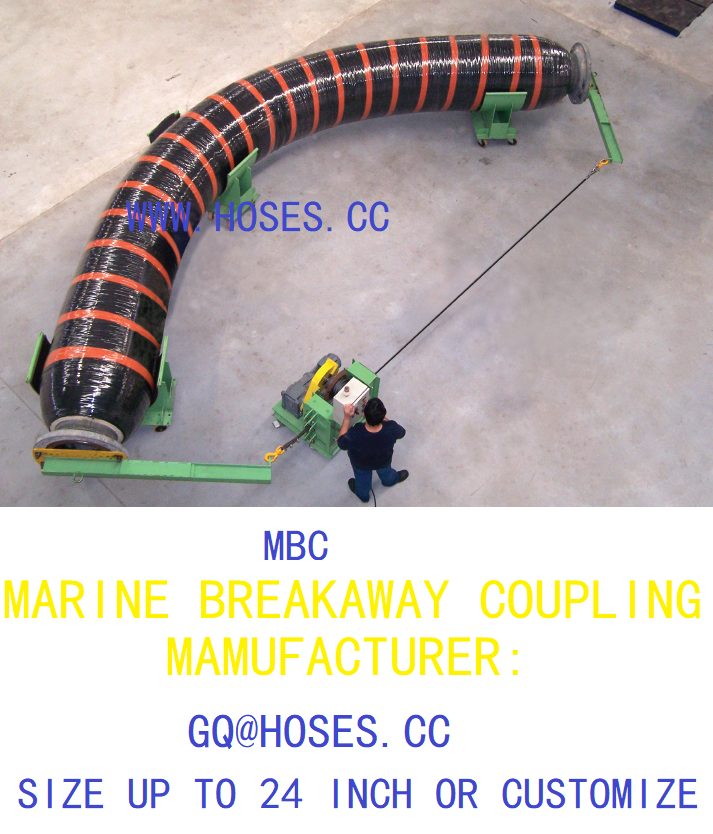 HOHN MARINE BREAKAWAY COUPLINGS OPTIONS
Cryogenic ERCs: Designed for LPG LNG, LNH3 and other cryogenic Liquids.
Crude Oil ERCs.
Welcome to contact our technical team for cooperation with HOHN Team.
www.hoses.cc
For floating hoses of GMPHOM 2009 orders pls visit:
https://www.floatinghosesllc.com/products/marine-floating-hoses