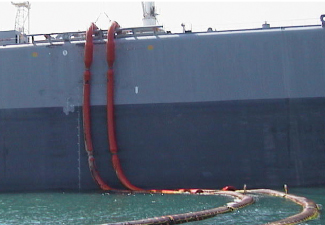 Oil Full Floating Hose Floatation:
● Floating Material : Closed cell Foam.
Mainline Full Floating Hose Outer Cover:
● Smooth black, Synthetic Rubber Resistant to Abrasion, Oil, Sea Water and Sunlight.
● Helical Orange strip.
● Polyurethane Orange in Colour cover available on request.
Marine Full Floating Hose Fittings: End connections built in during manufacture. ASME B 16.5 Class 150lb or 300lb Weld Neck Flat Face or Raised Face on request.
Full Floating Oil Hose Tests: All tests according to GMPHOM 2009 and Customer detail.
Mainline Full Floating Hose Applications:
The floating marine oil hose is designed for transportation of crude oil and liquid petroleum products between loading and unloading vessels at offshore mooring systems.
Mainline Full Floating Hose Characteristic:
● Indepent foam floating casing to prevent water absorption
● CR outlayer with excellent resistance to abrasion ,UV,aging and corrosive environment.
● Easy installation and less maintenance
● Cutomized steel flanges are available
● rated working pressure: 21 bar or as request
● minimum reserve buoyance: 20% or according to customer requirements
● electrical continuity: electrical continuous or discontinuous
● leak detection system: after the failure of the primary carcass, the detector will react to the leakage to remind the operator to remove the damaged hose to avoid economic loss and environmental pollution.
Single Carcass
A single carcass hose is capable to withstand the demands of the world's most exposed offshore installations. This hose consists of the tube, spiral reinforcement and cover layers.
Double Carcass
A double carcass hose is an anti-pollution hose. When the primary carcass leaks, the secondary carcass remains intact and takes over. In that way, oil spillage and environmental.
Mainline Full Floating Hose Standard:
The floating oil marine hoses are designed and produced in full accordance to OCIMF standard,the marine hoses are subjected to manufacturing and testing requirements dictated by ISO9000 quality standards.
Welcome to visit us and order our floating hoses.