SHANDONG HOHN GROUP: DREDGING FLOATING HOSES AND PIPE AND FLOATS EXPERT SINCE 1988! DEDICATED IN OFFSHORE CONSTRUCTION;DREDGING;MARINE SERVICE.
SHANDONG HOHN GROUP Floating hoses production branch company is a "safe production standardization enterprise" and has obtained two independent invention patents.
The company was founded in 1988, the Registered capital of 10,000,000.0 CNY. The annual sales exceeded 500 million CNY since 2018, and two new 60-meter industrial pipe production lines were added. The factory area of the new factory covers an area of 18,000 square meters, and the office building covers an area of 3000 square meters. In terms of production equipment, we imported 4 sets of Italian imported VP industrial fluid hose production line, worth more than 10 million CNY; increased the offshore oil hose production line, worth 9 million CNY, to meet the customer's requirements for large-dia hose production, and realized industrial equipment automation, greatly increased production capacity. In 2018, the company added two sets of industrial fluid pipe production lines, and added more than 20 sets of test and inspection equipment, worth 8 million CNY . At the same year, the company cooperated with the Institute of Ocean Engineering of China University of Petroleum to become the internship production base of the University, and according to the strict requirements of the State Council on environmental protection, the new construction of the mixing center was added, with a total investment of more than 10 million CNY. After 32 years of rapid development, the company now has more than 150 million CNY in fixed assets, 350 employees, 30 scientific research personnel team, 10 senior engineers with doctor degree, more than 120 sets of production equipment, annual sales exceeding 500 million CNY, becoming a technology leader enterprise.
Our current main products are: large-dia marine oil hose (submarine oil / floating, semi-floating oil / dock oil hose); large diameter dredging hose (floating dredging / draining mud dredging hose); industrial rubber Hose and food tube (FDA food tube / UHMWPE rubber composite hose / chemical hose / SAE 100R3 hydraulic hose / SAE 100R6 hydraulic hose / tanker hose / sandblasting hose / mortar and concrete hose / steam hose / fuel oil hose) and so on. All products have obtained BV ISO9001: 2015 international quality system certification and International GMPHOM 2009 certification and FDA certification.
Our products have advantage as following: progress rigorously, strict inspection, long service life, favored by domestic and foreign customers. At present, the products are exported to more than 50 countries and regions such as the United States, Australia, Argentina, Malaysia, Singapore, the Netherlands, the United Kingdom, and the Middle East, and have established long-term cooperative partnerships with them. We try our best promote the development of the hose industry and contribute all its strength.
HOHN Group design and manufacture flexible rubber dredge hoses.
These dredge hoses are available in floating and non-floating series, with Max ID internal diameters of 1300.0 mm

HOHN Group Dredge Discharge Flexible Dredge Hoses Introductions:

Our designers will select the most appropriate materials from a wide range of products available to us to meet service and demands requested by our clients i.e. in regard to wear resistance, pressure ratings, tensile strength, bending capabilities and so on.

In general the Rubber Dredge Hoses consist out of an inner lining adjusted to the specific requirement of transported media.
Wear indicator layers can be implemented in the dredge hoses which transport abrasive media.
A textile reinforcement of high tensile strength will control the pressure resistance of the dredge hose as well as the tensile strength.
Where as the outer cover is built up by a rubber compound highly resistant against weathering, UV lights and Ozone.
On special request the outer cover can be built with oil resistant materials.

Dredge hose end fittings are available in a wide variety which are selected on duty requirements.


Discharge Dredge Hoses


Suction Dredge Hoses


Floating Dredge Hoses


Full Armored Floating Dredge Hoses


Armoured Dredge Discharge Hoses

OCIMF Floating Oil hose(Oil Companies International Marine Hose Guide)

Submarine Oil Hose
Technical information given below
TECHNICAL INFORMATION OF THE GMPHOM 2009 MAINLINE FLOATING HOSES(FOR OFFSHORE MOORINGS):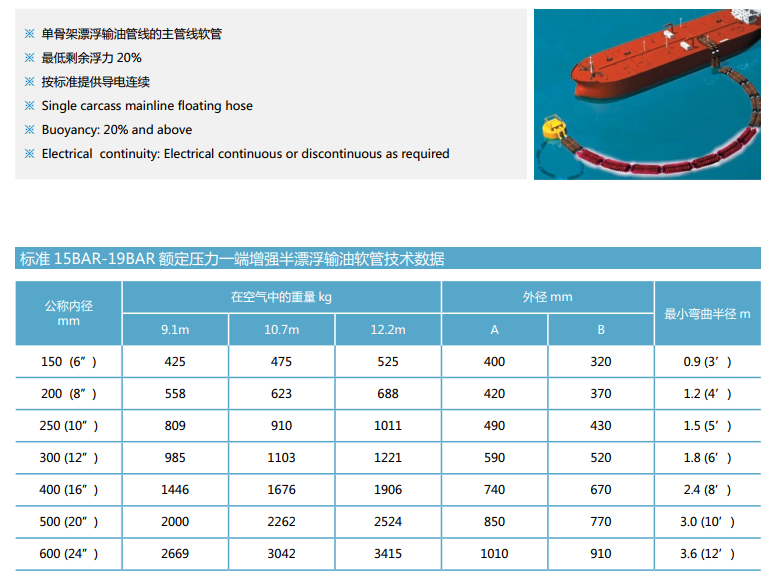 Lining
Synthetic oil resistant rubber with high strength breaker plies impregnated and coated with high grade synthetic rubber to achieve maximum adhesion of the lining to the hose carcass.
Reinforcement
Multiple lies of high tensile reinforcing materials, with outstanding resistance to fatigue, applied at precise angles to achieve maximum strength and flexibility with minimum elongation.
Fully embedded steel wire coils are incorporated to achieve kink, crush and local load resistance.
Cover
Synthetic rubber, resistant to abrasion, weathering, sea water and oil. The cover, which incorporates reinforcing breaker plies is black with a bright orange spiral stripe or coated in tough bright orange polyurethane.
Closed cell expanded foam giving a minimum reserve buoyancy of minimum 20% over the entire hose length.
TECHNICAL INFORMATION OF THE GMPHOM 2009 HALF FLOATING HOSE WITH ONE END REINFORCEMENT :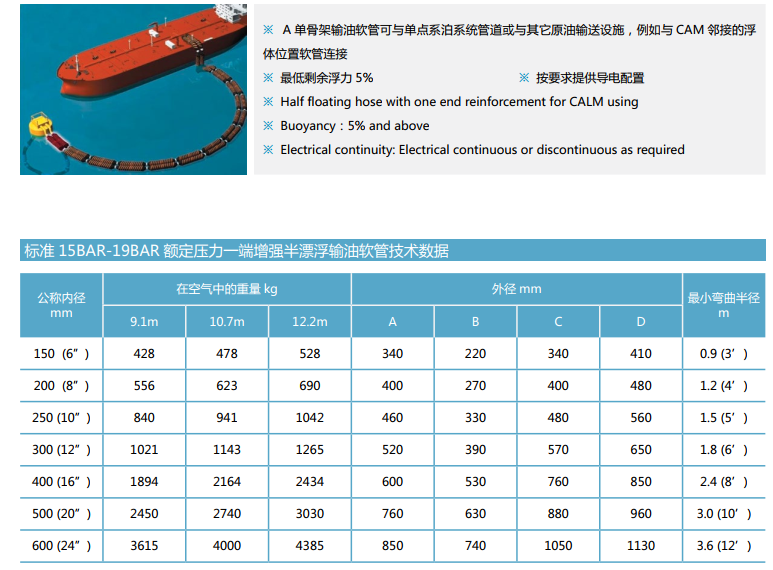 TECHNICAL INFORMATION OF THE GMPHOM 2009 TANKER RAIL FLOATING HOSES: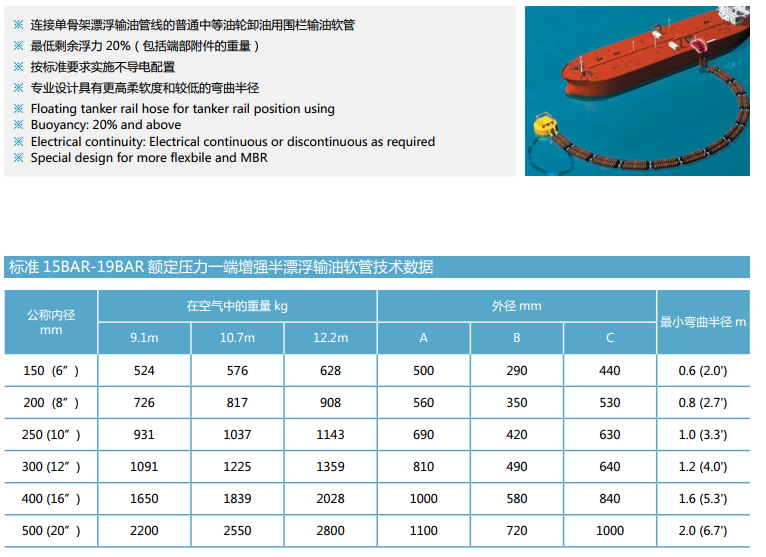 TECHNICAL INFORMATION OF THE GMPHOM 2009 REDUCING FLOATING HOSES: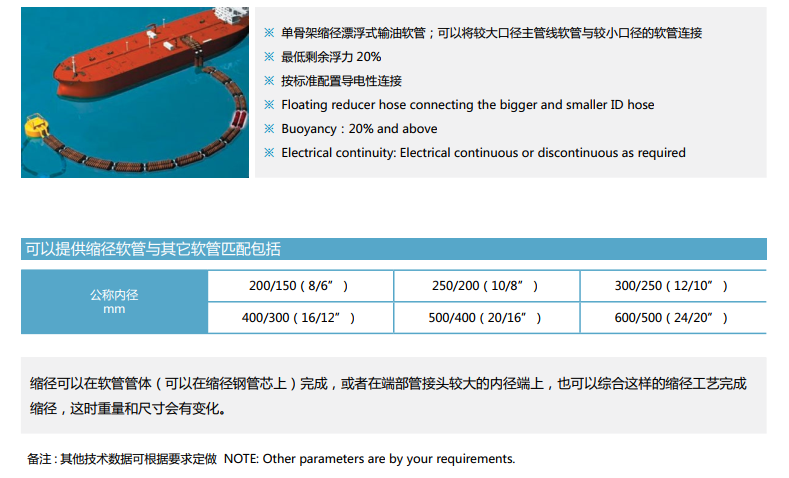 TECHNICAL INFORMATION OF THE GMPHOM 2009 TAIL FLOATING HOSES: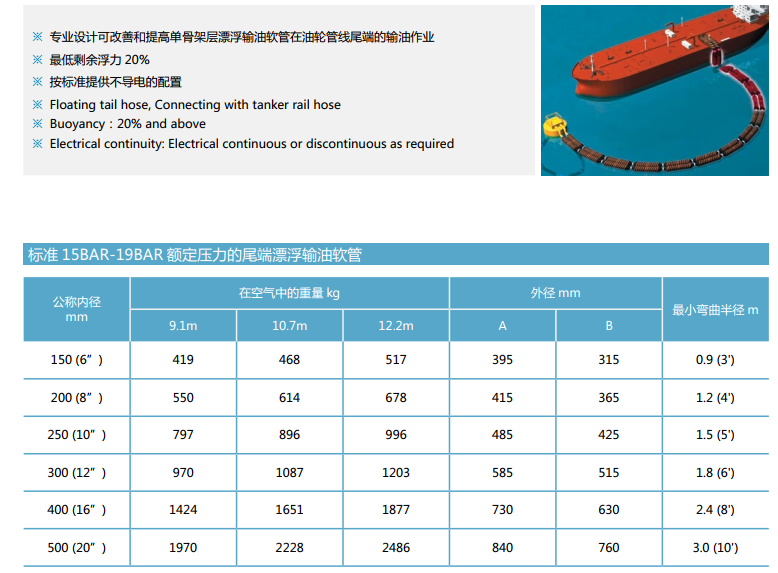 TECHNICAL INFORMATION OF THE GMPHOM 2009 MAINLINE SUBMARINE HOSES WITH COLLARS: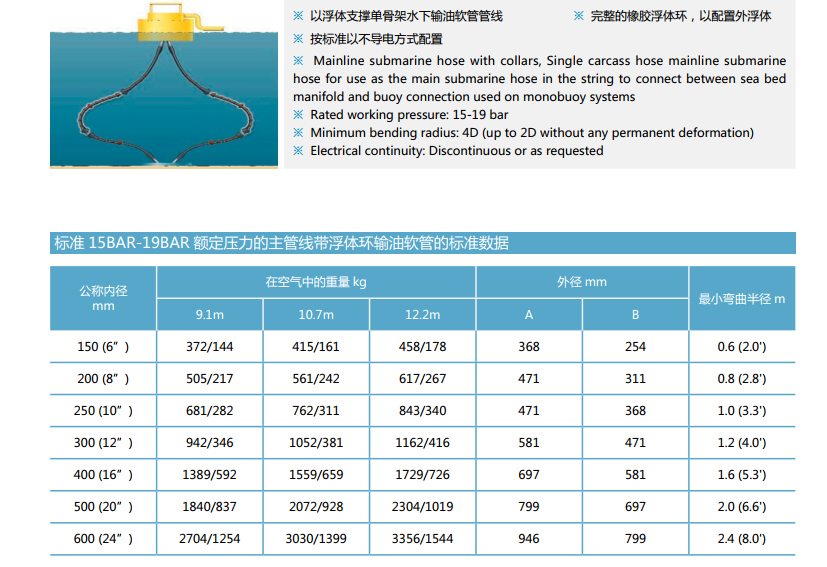 TECHNICAL INFORMATION OF THE GMPHOM 2009 SUBMARINE HOSES WITH ONE END REINFORCMENT: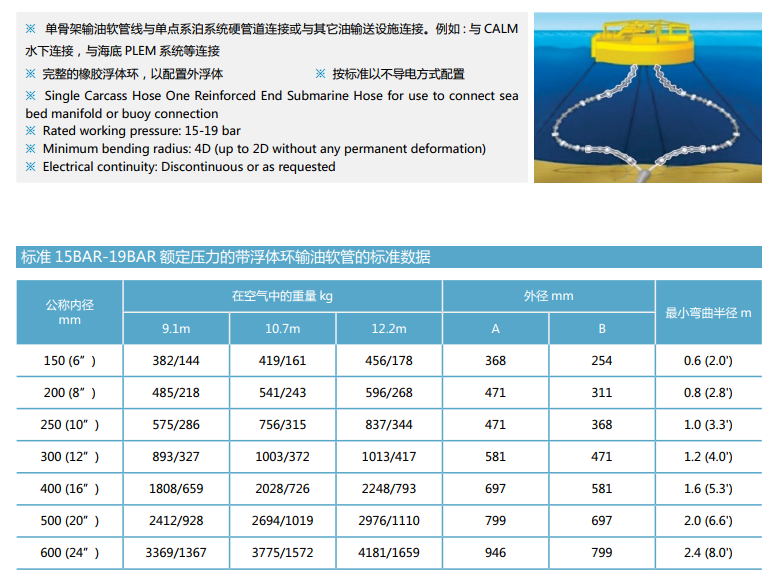 TECHNICAL INFORMATION OF THE GMPHOM 2009 MAINLINE SUBMARINE HOSES: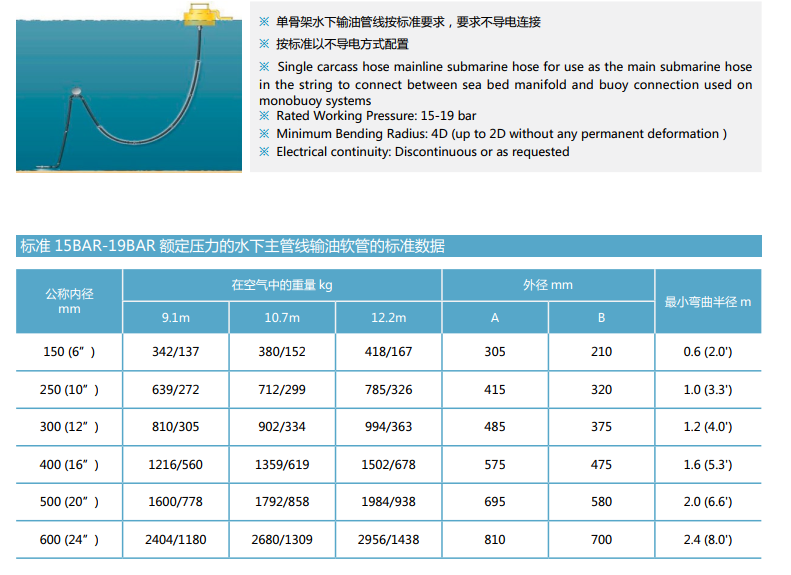 TECHNICAL INFORMATION OF THE GMPHOM 2009 SUBMARINE HOSES WITH ONE END REINFORCMENT: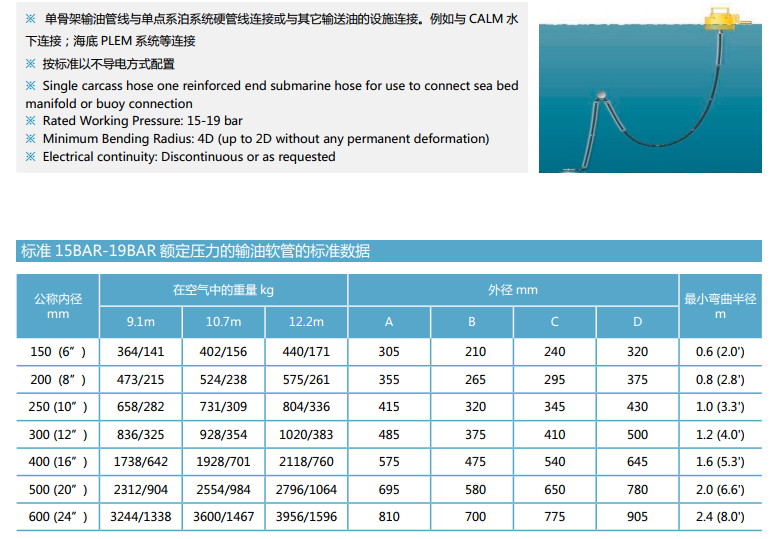 TECHNICAL INFORMATION OF THE DREDGING FLOATING HOSES AND NON-FLOATING HOSES: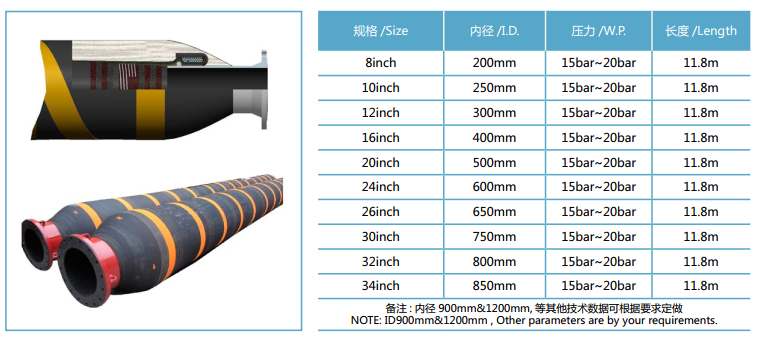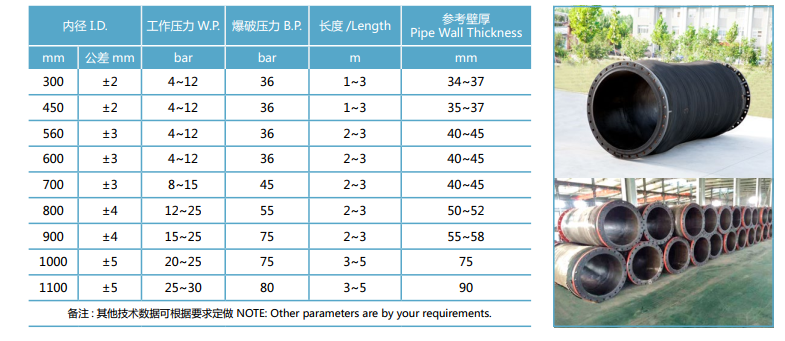 TECHNICAL INFORMATION OF THE DREDGING SLURRY SUCTION HOSES: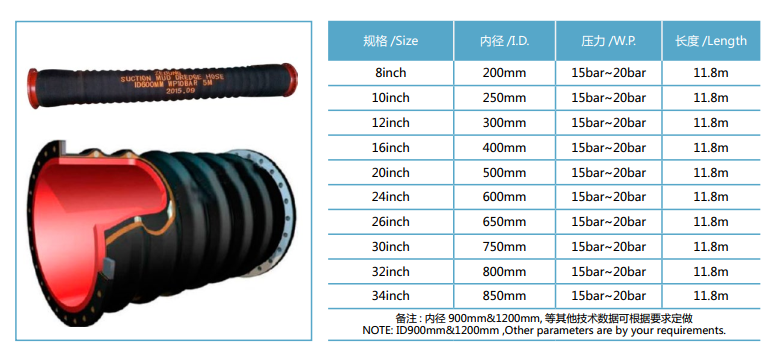 Hoses can be transported via road on truck trailers or via sea transport in Open Top Containers 40 feet containers. (OT 40').
As an indication of the loading volume please find below a guide to the loading capacity of each hose type into one 40' OT container:
6" (150 mm) hoses 25-30 numbers
8" (200 mm) hoses 20-25 numbers
10"(250 mm) hoses 15-20 numbers
12"(300 mm) hoses 9-10 numbers
16" (400 mm) hoses 7- 8 numbers
20" (500 mm) hoses 5- 6 numbers
24" (600 mm) hoses 4 numbers
From HOHN Group you could get whole sulutions in your offshore marine or dredging hoses.
In dredging applications, Armored hoses and pipe & plastic/rubber floats also available.
Please visit our company website for more details: www.floatinghosesllc.com