OUR RUBBER HOSE AND FLOATS PRODUCTS AVAILABLE SEE BELOW:
RUBBER FLOATER/PU FLOATER:
BOW COUPLING FLOATER: CONNECT BETWEEN DREDGER AND CONNECTION HOSE;
BOW COUPLING FLOATER;
BOW CONNECTION HOSE:
CONNECTING HOSE: CONNECT TAPERED HOSE AND BOW FLOATERS, CONNECTION HOSE HAS SPECIAL CORD REINFORCEMENT, OUT COVER ANTI UV AND ABRASION;
HALF-FLOATING HOSE IS USED FOR THE TRANSITION BETWEEN THE FLOATING HOSE AND BOW CONNECTION HOSE, IT IS DESIGNED AS TWO TYPES:
TAPERED FLOATING HOSE AND HALF-FLOATING HOSE, THE TAPERED FLOATING HOSE IS THE GRADUAL REDUCE OF BUOYANCY ALONG THE HOSE BODY.
TAPERED FLOATING HOSE;
PRECISE DESIGN OF PROPER HOSE TYPE ACCORDING TO DIFFERENT DREDGER DREDGING CONDITIONS REQUIREMENTS, DREDGING HOSE HAS HIGH PRESSURE RESISTANCE, HIGH WEAR RESISTANCE, EASY TO BEND, COMPACT STRUCTURE, LONG SERVICE LIFE.
EXTREME FLEXIBLE FLOATING HOSE DIAMETER RANGE FROM 100 TO 1300.0MM, CAN BE USED IN TRANSFERING/DREDGING CORAL REEFS, ROCKS, SAND AND GRAVEL ETC, BIG SEA WAVE AND EXTREME HARSH WORKING CONDITIONS.
RUBBER SUCTION AND DISCHARGE NON-FLOATING HOSE.
MDPE PIPE FLOATERS FOR STEEL PIPE, HDPE PIPE, RUBBER HOSE.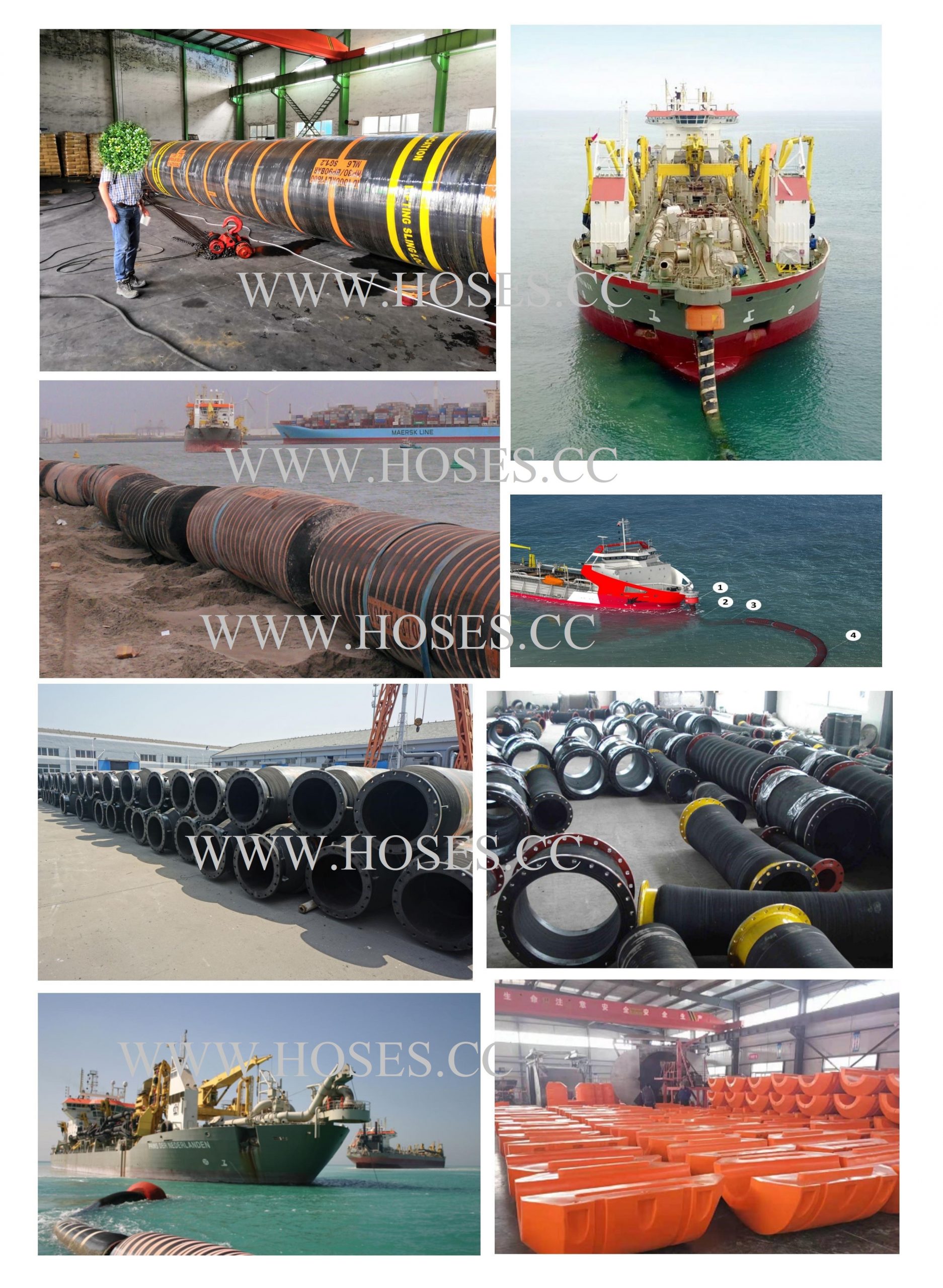 For more professional advise, pls contact our expert: gq@hoses.cc