SHANDONG HOHN GROUP: DREDGING FLOATING HOSES AND PIPE AND FLOATS EXPERT SINCE 1988! DEDICATED IN OFFSHORE CONSTRUCTION;DREDGING;MARINE SERVICE.
Growing global trades has led to an increase in maritime transport. In order to accommodate this growth in international shipping and ever larger vessels, new ports are being constructed around the world and existing port infrastructure is being expanded. Dredging activities for port construction and expansion include the creation of access channels, berthing places and turning basins, reclaiming land for yard and terminal activities, and the deepening and widening of existing waterways.
HOHN group own-patented self floating hoses is made of high quality and wear-resistant rubber, the outer cover has excellent abrasion resistance and UV protection.
The outside of the tube is wrapped with buoyancy material and covered with a protective layer.
HOHN floating dredging hoses are widely used with dredgers for silt or gravels conveyance.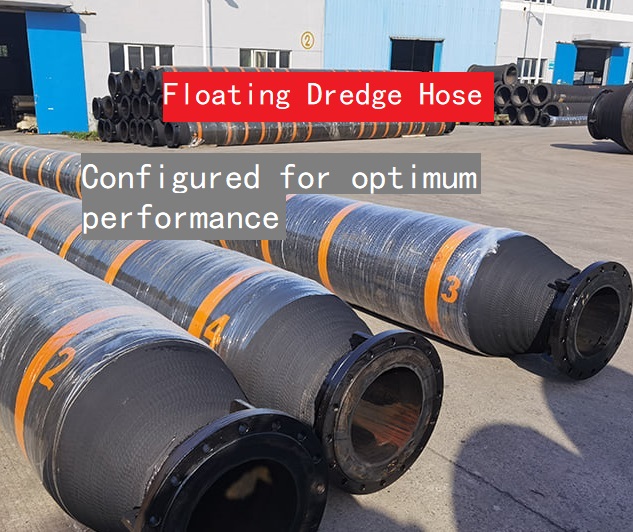 Below is our working pressure 15.0 bar specifications: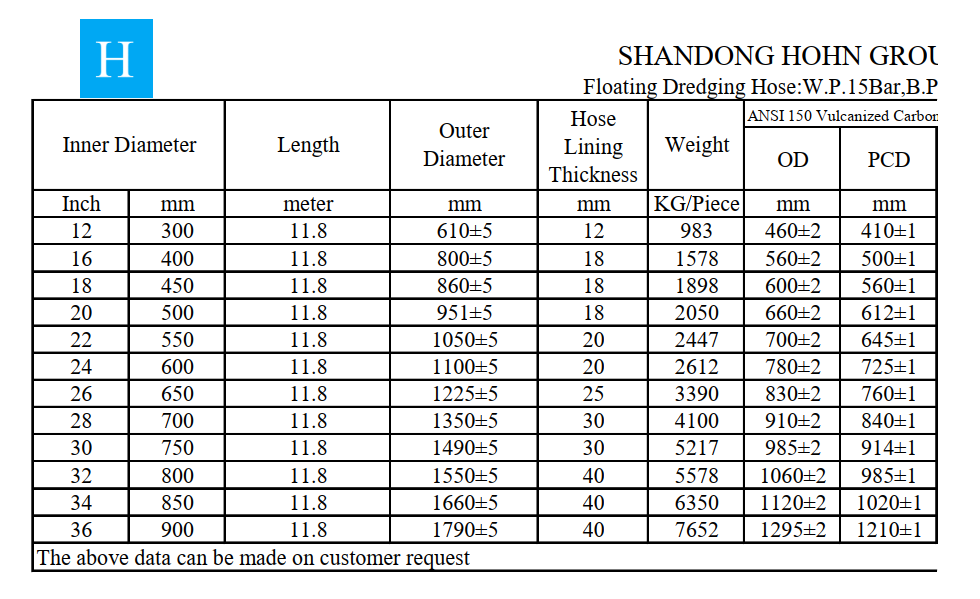 Below is our working pressure 25.0 bar specifications:

HOHN Floating Hoses Advantages:
1. High wear resistance of the inner layer.
2. Colored indicator in the inner layer.
3. Outer cover with excellent abrasion resistance and UV protection
4. Single foam flotation casing to prevent water absorption.
5. The hose emergence above water is not less than 20% of the total volume.
6. Flang design according to your requirement.
7. Bending angle : 0°-45° ( Maximum: 90° in short time )
8. Easy to install, of good adhesion, long service life.
Floating hoses configurations can contain:
Floating discharge hoses; Pressure hoses; Tapered hoses; Connection hose; Riser hoses; Sinker hoses and Bow floater.
Possible floating dredge pipelines for Trailing Suction Hopper Dredger and Cutter Suction Dredgers please check below(Also applies to the Full armored rubber floating hoses dredge line )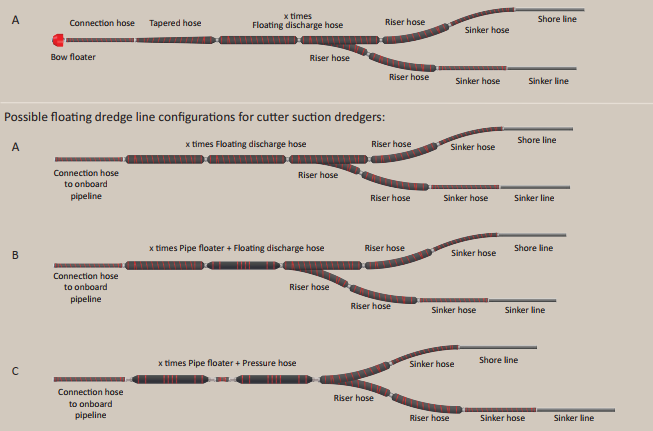 HOHN GROUP Full armored rubber floating hoses advantage introduction:
HOHN Group Inner full armored rubber hoses for dredging: It is composed of metal cone pipe, rubber layers, steel wire, rubber outer coating and flanges. The structure type is that multiple cone pipes are nested in sequence. After being combined with the rubber layer, Multi-strand steel wires are tied and fastened together, and finally covered with a rubber outer coating.
In dredging works, when conveying solid materials with sharp angles, ordinary rubber self-floating hoses are easily damaged inside.
For the steel ring armored floating hoses, as the rubber and steel rings is not synchronized, it result in grooves.
HOHN Group Full armoured rubber floating hoses are equipped with wear-resisting metal cone sleeves through the rubber hoses, so the solid dredging sediments (like Coral reef, medium coarse sand, heavy stone etc) and rubber hoses do not contact and wear synchronously, so as to achieve the effects of wear-resisting, bending cushioning and wind wave resistance. It can bend more than 30 degrees. In the working conditions (Midium containing sand less than 30%) the buoyancy is above 25% of the hose outer diameter.
Flanges could be customized according to your requirements.
HOHN GROUP Full armored rubber floating hoses Specifications:
ID mm
PCD mm
Hole
Number
Hole ID
Length mm
600.0
760
18
27
5800/11800
650.0
780
24
27
5800/11800
700.0
840
24
27
5800/11800
750.0
920
30
28
5800/11800
800.0
970
32
30
5800/11800
850.0
1020
24
32
5800/11800
900.0
1110
28
39
5800/11800
1000.0
1210
28
45
5800/11800
HOHN GROUP Full armored rubber floating hoses Specifications:
Have a look at the HOHN Full armored floating hoses structure compared with the steel ring armoured floating hoses:
HOHN Group full armored floating hoses makes the inner wall of rubber hose not exposed, and partial grooves after wearing wont happen.
Existing problems for steel ring armored floating hoses:
1 steel ring off as the boding strength is not enough between the ring and rubber
2 Resulting grooves
3 Deformation and blockage of the ring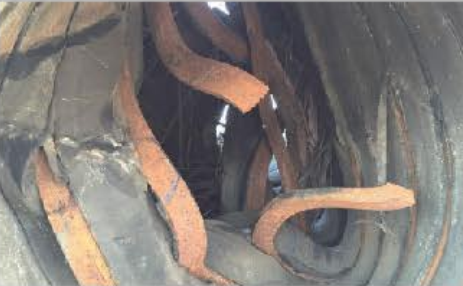 Our Full Armoured Hoses Series produts are exclusively produced in the world and are incomparable with hoses products currently circulating in the dredging market, and have superior performance of Wear-resistant and durable.
It all depends on your dredging needs to choose common dredging floatinghoses or full armored floating hoses dredge line.
Welcome to visit HOHN Group official website for more details: www.floatinghosesllc.com