SHANDONG HOHN GROUP: DREDGING FLOATING HOSES AND PIPE AND FLOATS EXPERT SINCE 1988! DEDICATED IN OFFSHORE CONSTRUCTION;DREDGING;MARINE SERVICE.
Why Restore Eroded Beaches?
Lets share the Florida Cases together:
Beach erosion threatens the very resource that residents and visitors enjoy. Over 419.6 of the state's 825 miles of sandy shorelines are designated by the Department as "critically eroded." This designation is a level of erosion that threatens development, recreational, cultural, and environmental interests. While some of this erosion is due to natural forces and imprudent coastal development, a significant amount of coastal erosion in Florida is directly attributable to the construction and maintenance of navigation inlets. Florida has over 60 inlets around the state. Many have been artificially deepened to accommodate commercial and recreational vessels and employ jetties to prevent sand from filling in the channels. A byproduct of this practice is that the jetties and the inlet channels have interrupted the natural flow of sand along the beach, causing an accumulation of sand in the inlet channel and at the jetty on one side of the inlet, and a loss of sand to the beaches on the other side of the inlet.
One way to restore eroded beaches is through beach nourishment (notice it is not called "renourishment"). In a typical beach nourishment project, sand is collected from an offshore location by a dredger like CSD dredger and is piped onto the beach via Dredging floating hoses or pipelines(Pipe, Flexible hoses, Plastic Floaters). A slurry of sand and water exits the pipe on the beach and once the water drains away, only sand is left behind. Bulldozers move this new sand on the beach until the beach matches the design profile. Beach nourishment is a preferred way to add sand to a system that has been starved by the altered inlets because it provides a significant level of storm protection benefits for upland properties and has the least impact on the coastal system. An additional benefit of beach restoration projects is that they quickly restore shorebird and marine turtle habitat.
Local, state and federal entities are now managing over 200 miles of restored beaches in Florida.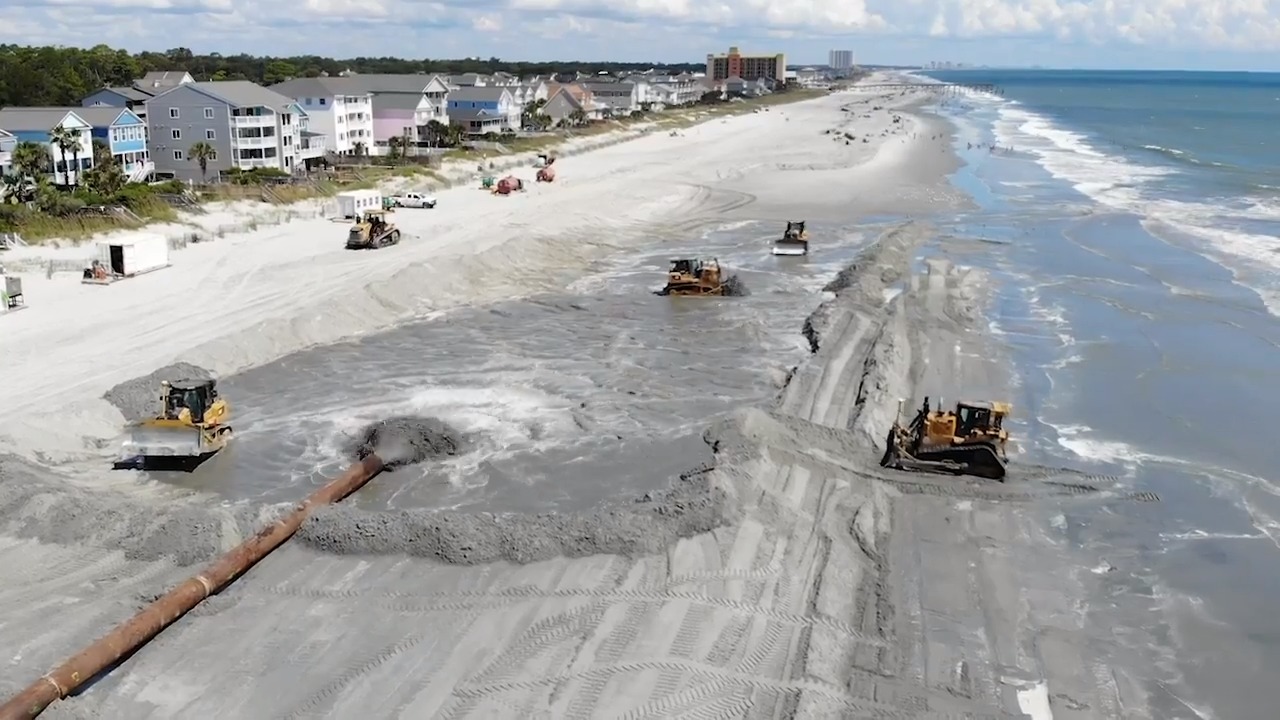 SHANDONG HOHN GROUP'S Dredge Pipe Floats/Floaters shell is made from high wear resistant PE material with excellent flexibility by USA imported machine one-time rotational molding tech, filled inside with high-strength polyurethane closed-cell foam. The Dredge Pipe Floats/Floaters are designed to HDPE/Steel pipe and flexible discharge hoses, and it can provide sufficient buoyancy to assure the dredging pipeline floating above the water level.
HOHN Dredge Pipe Floats/Floaters are normally produced into orange colors that to act as warning signs to other vessels nearby. The other colors can also be made as per requests.
To assure long-time service outside, a UV stabilizer must be added to while manufacturing, which ensure the Dredge Pipe Floats/Floaters have a good UV-stabilization.
HOHN Dredge Pipe Floats/Floaters are composed by two halves, the inside diameter of pipe floats will be same (or slight smaller) to HDPE/Steel dredge pipe's outer diameter, so the Dredge Pipe Floats can be fixed via bolts and nuts tightly on the HDPE/Steel dredge pipe or the hoses without slipping. Two halves of pipe floats are connected by bolts/nuts that are made by galvanized steel grade material.
Thanks to the excellent structure, HOHN Dredge Pipe Floats/Floaters can absorb or reduce the energy from vessel collision and protect the dredge pipelines that they are supporting. Double reinforced bolts/nuts on every float ensures a safe and secure connection to the pipe.
The Dredge Pipe Floats/Floaters have become the ideal solution & a necessity for moden dredging work.
To order our plast floats products, please contact our engineer for more details and quotes: www.floatinghosesllc.com