Specialty Products
SPECIALLY REINFORCED & VARIABLLY REINFORCED SUBMARINE HOSE
REELING HOSE
SHIP-TO-SHIP HOSE/STS HOSE
SPECIALLY REINFORCED & VARIABLY
REINFORCED SUBMARINE HOSE
Specially reinforced Submarine Hose and Variably Reinforced Submarine Hose with bending stiffness 500kN-m2 (51ton-m2) designed for SALM (Single Anchor Leg Mooring) System were developed by HOHN. this outstanding characteristic contributed to the successful operation of SALM System.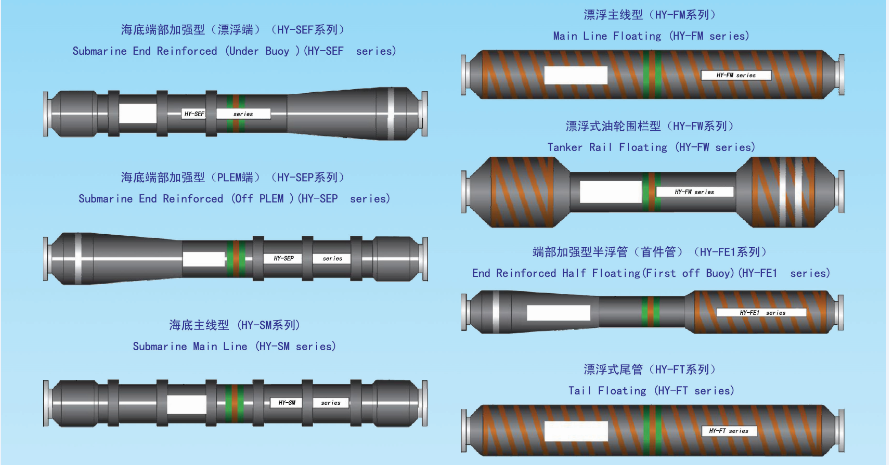 REELING HOSE
Developed for FPSO/FSO reel system.
The hose is specially designed to withstand the crushing and bending force due to the reeling.
STS (SHIP-TO-SHIP) HOSE
HOHN STS HOSE for offshore Ship to Ship (STS) transfer operation. STS hose is designed for safe offshore operation.
This STS hose are used for liquid Nitrogen and LNG liquefied natural gases and specially designed for LNG Ship to Ship transfer purpose.
LNG TRANSFER SHIP TO SHIP
LNG BUNKERING
SAFETY FACTOR: 5:1
Robust hoses for demanding ship-to-ship transfer operations within the oil and gas industry.
The two tankers in a ship-to-ship application are connected by robust, yet flexible hose strings that insure against severe operational wear and tear during their lifetime. Repeated lifting, bending, folding, and being subject to the dynamic forces of vessel movements at sea can all result in load and stress factors within the hose. Its therefore imperative that this type of hose is handled, stored, inspected and tested correctly and regularly to maintain the design life expectations of these hoses.
and has outstanding characteristics as follows.
Applicable Standard : EN1765
Heavy duty design – Safety factory of pressure strength is more than five times of the operating pressure.
No permanent deformation – Helix wire free construction – deformation shall not remain permanently even though hoses get kinked by rough bending and deformation by slight vacuum during operation.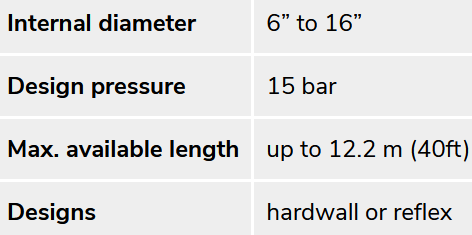 For more details pls contact HOHN.