The Multi-point Buoy Mooring (MBM) also known as Conventional Buoy Mooring (CBM) includes multiple buoys fixed to the seabed by means of mooring lines and marine anchors. The three to six buoys are permanently installed in a rectangular pattern that allows safe mooring of a vessel which is positioned between the buoys.
The tanker is moored close to a submarine string laying in idle position on the seabed which is picked up by means of a rope/buoy coupling. They're used typically in non-deep water where there are no quay facilities available for the loading/offloading crude oil and oil byproducts from oilfields or refineries.
HOHN is able to propose tailor made submarine hose string solutions to fit every customer need. All our marine hose are designed and manufactured according to OCIMF 2009.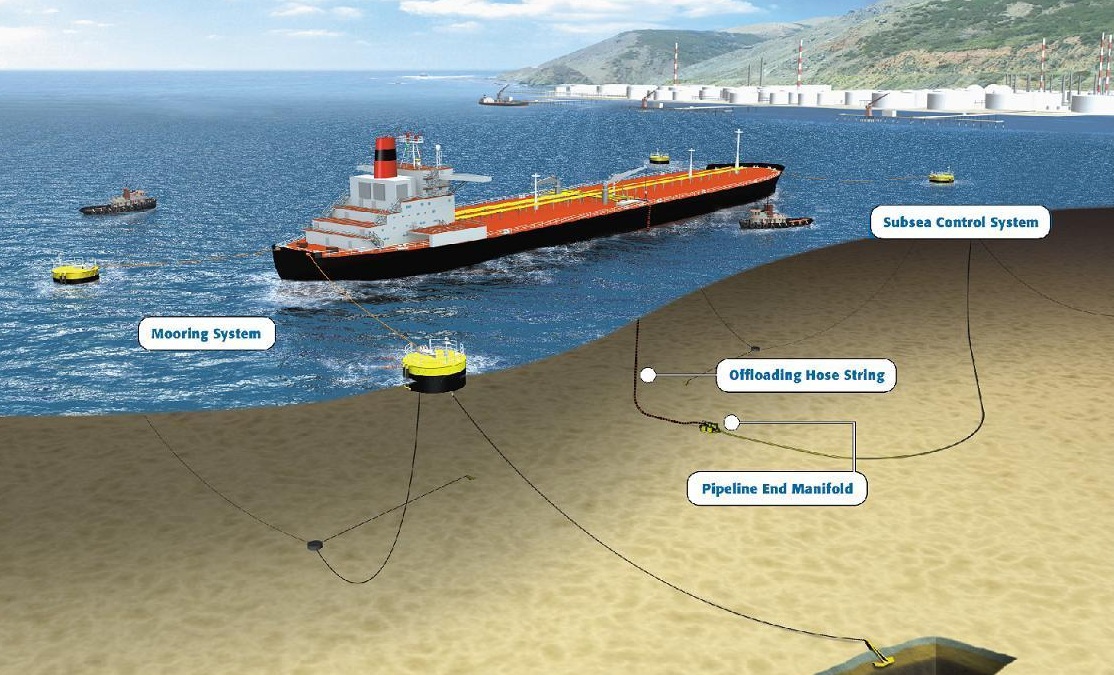 The buoys provide the strong points to which the vessel's on-board mooring lines can be attached. These are the same lines that are also used for mooring the vessel along a quay.
The CBM system is especially valuable when no quay sites are available. It can also be combined with a fluid transfer system that enables connection of (subsea) pipelines to the midship manifold of a conventional tanker. When no tanker is moored, the submersible hose or hoses are stored on the seabed. For cryogenic fluids, the aerial hose is suspended from a tower to the midship manifold of the liquefied gas carrier.
Some mooring buoys are off-the-shelf products, while others have been specially designed to include features like quick disconnection couplings. The mooring system and layout of the buoys are always specifically designed to match the vessel's requirements and local environmental conditions. Typically these systems are designed for nearshore applications with water depths starting from six metres.
CHOOSING BETWEEN SPM CALM AND CBM MOORING
 Single Point Mooring(SPM);Conventional Buoy Mooring (CBM) systems, also referred to as Multi-Buoy Moorings (MBM). 
Catenary Anchor Leg Mooring (CALM) as example of Single Point Mooring (SPM)/Single Buoy Mooring (SBM) system with amidships cargo manifold side connection for operation offshore.
COMPARISON SUMMARY
| | | |
| --- | --- | --- |
| CRITERIA | SPM | CBM |
| Vessel size | Vessel sizes unlimited | Vessel sizes typically up to 80 000 dwt, but up to 225 000 dwt has been installed |
| Operating water depth | Up to 100 m water depth | Up to 30 m water depth |
| Mooring chains | 6 to 8 mooring chains | 4 to 8 mooring chains |
| Approach | Can approach from any position – and therefore can choose to approach into prevailing weather conditions | Can only approach from limited positions |
| Mooring time (after arriving at mooring position) | Typically 15 min. | Typically 2.0 h |
| Hose connection time | Typically 1.0 h | Typically 1.0 h |
| Offloading time | The function of vessel pumps capacity, line size and distance | The function of vessel pumps capacity, line size and distance |
| Hose disconnection time | Typically 1.0 h | Typically 1.0 h |
| Mooring disconnection time | Typically 15 min. | Typically 1.0 h |
| Net total time difference | Typically 2.5 h quicker compared to CBM | Typically 2.5 h longer compared to SPM |
| Mooring conditions | Able to moor with winds up to 30 knots and head waves of 2.0 m to 2.5m | Able to moor with winds up to 30 knots and head waves of 1.0 m |
| Offloading steps | Steam from anchorage, moor, connect hoses, pump product through, disconnect hoses, disconnects mooring, steams away | Steam from anchorage, moor, connect hoses, pump product through, disconnect hoses, disconnects mooring, steams away |
| Operating limit | Product offloading possible with wind up to 40 knots and head waves of 3.0 m to 4.5 m | Product unloading with wind up to 40 knots and waves higher than 2.0 m to 2.5 m |
| Mooring disconnection | The vessel has to leave berth with winds of 60 knots and waves higher than 3.5 m to 5.0 m | The vessel has to leave berth with winds of 60 knots and waves higher than 2.0 m to 3.0 m |
| Cost | Approximately US $15m for SPM CALM buoy alone | Approximately US $120k to $ 250k per buoy alone |
| Tuggage | Required for mooring. Tug required full time during mooring to assist with weathervane movements | Required during mooring and disconnection from moorings |
| Under Keel Clearance | The function of the vessel and metocean conditions | The function of the vessel and metocean conditions |
| Suppliers | Proprietary technology and limited suppliers | Non-proprietary technology |
| Track record | Since 1959 successfully installed around the world | Successfully installed around the world for close to a century |
| Weather impact | Less prone to adverse conditions and swell delays than a CBM | More prone to adverse conditions and swell delays than an SPM |
| Night operations | Possible limitation on night-time mooring depending on local operational, safety and environmental procedures. Can disconnect from moorings 24 h a day | Possible limitation on night-time mooring and disconnecting from mooring depending on local operational, safety and environmental procedures |
| Maintenance | Additional complex maintenance activities compared to a CBM – swivel, bearings, mooring line tensions, etc. | Less complex maintenance compared to SPM. Hoses damage more due to abrasion from storage on the sea bed |
SPM AND CBM COMPARISON SUMMARY
HOHN GROUP is experienced in designing and manufacturing of SPM and CBM hose strings, for more details pls contact: gq@hoses.cc